5. Jacki Weaver in Silver Linings Playbook (3/5 stars)
Although she had a very small role and no one was expecting a nomination from her, Jacki Weaver was able to deliver a cute loving performance as the mother in a family where mental illness is prevalent. Upon watching SLP again recently, I noticed that although she didn't have much dialogue her presence in scenes when she's just smiling or looking concerned make her presence felt. If she had more lines or like maybe even a monologue scene about how she's affected by all of the problems she might have had more of a chance but overall it was an extremely enjoyable performance from an actress that needs more recognition, in my opinion.
4. Amy Adams in The Master (3.5/5 stars)
To be completely honest, I personally thought that this was Amy Adams second strongest performance in this category. (With the first being her exceptional performance in Junebug) The problem with Adams' performance however is that the movie is pretty much the Phoenix/Hoffman show. The few scenes that she does get, however, are nothing short of brilliant. That scene where she was "assisting" Dodd and telling him to "cum for" her was quite uncomfortable just because of the nonchalance in her tone. Her big scene was the "we have to attack" and if she had more scenes like that one she would have had a higher ranking.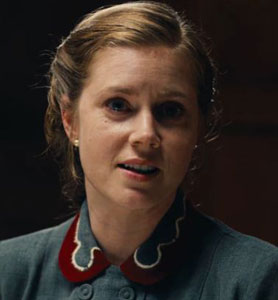 3. Helen Hunt in The Sessions (3.7/5 stars)
Let's be honest, this felt like a leading performance and it was handled amazingly well by Helen Hunt. Her subtlety in how she delivered her performance felt so earnest. The emotion she put into the scenes where she knew she was getting too involved with Mark after he had written her the poem. She was able to pull of the feelings of being disconcerted without much dialogue. I also know that at some point she had a Boston accent and at other points in the movie she didn't but that didn't detract from her overall performance. This was a phenomenal performance from an actress I know not much about in an extremely great movie.
2. Anne Hathaway in Les Miserables (4/5 stars)
There's no denying that Anne Hathaway's turn as Fantine in the musical phenomenon Les Miserables was nothing short of spectacular. She moved through her scenes really well and was able to express the agony and pain of someone who has fallen to rock bottom but still has to go on for her daughter. Her rendition of "I Dreamed a Dream" has become synonymous when even referring to the movie itself. Personally, I liked her very few scenes she had after her big "I Dreamed a Dream" number a little bit better as it showed a truly broken woman. There's no denying the amazing talent that Anne Hathaway possesses and that allowed her to win the actual Oscar.
1. Sally Field in Lincoln (4.7/5 stars)
My personal choice for the best of this year goes to the amazing Sally Field for her performance as Mary Todd Lincoln in the the Steven Spieldberg epic Lincoln. It could have been easy for Sally to get lost in the epicness of the movie and the amazingness that was Daniel Day-Lewis' performance, but she more than holds her own as the troubled first lady. My personal favorite scene is the argument scene in which Mary Todd falls to the ground to show how truly heartbroken she was over the death of her son. That scene alone made me pick Sally as my top choice. Not to say she doesn't have to any other great scenes, like her scene in the Grand Reception. While I've heard some complain about Sally "over-acting", I beg to differ. There's no great way of underacting someone who was potentially mentally ill. All-in-all, a great performance by a great actress.
Honorable Mentions:
Ann Dowd in Compliance (4/5 stars)
There's no way that Ann Dowd was a supporting actress as she pretty much lead the movie (like Helen Hunt) but perhaps because she was in an indie she was made to campaign as a supporting actress. Anyhow, Ann Dowd was truly spectacular in Compliance. I often found myself upset at Sandra for easily falling into the trap and going through with everything the "cop" was telling her to do, but Ann Dowd portrayed Sandra as someone who was just trying to follow the orders of someone who was supposed to guide her in the right direction. The final scene in the interview is truly a revelation of how amazing Ann Dowd was because it shows her as Sandra trying to hold on to her pride. She is basically asking "what would you do?" but not at all trying to deny the fact that she was somewhere in the wrong. It's a shame that she didn't get nominated.
Nicole Kidman in The Paperboy (3/5 stars)
To be completely honest, I'm not sure how to feel about the movie and that kind of affects how I feel about the performance, which I know it shouldn't. Nicole Kidman played Charlotte Bless, a trashy woman who writes letters to men in prison and gets engaged to one. On one hand, I think that it was a good role and that Nicole was great in it. On the other hand, I think the movie detracts from her performance in that it's polarizing, to say the least. I think the movie is worth a watch, if just so one could make their own opinions about Nicole Kidman. She's been called "terrifically good" in this movie and so that might be a reason to watch it.
Samantha Barks in Les Miserables (4.2/5 stars)
Samantha Barks definitely held her own in the musical epic, playing Eponine, yet another tragic character in the movie. She perfectly portrayed the yearning and desire that the character was experiencing which made her demise saddening. Like Anne Hathaway had "I Dreamed a Dream", Samantha Barks had "On My Own" and she was fantastic. I honestly thought that she might be able to pull off a nom but it looks like everyone was more concerned with getting Anne Hathaway her first Oscar. When people go back and watch Les Miserables, I feel that they will be able to appreciate Samantha Barks performance and see that it was worthy of an Oscar nom.